We will take part at Cibus Tec 2023 exhibition: innovation and technology in the industry of food & beverage
We are happy to announce that we take part at Cibus Tec 2023.
This is an event full of technologies for the food and beverage industry, an opportunity to discover and propose innovation, gathering feedback from the market.
More than 1,200 exhibiting companies take part and more than 30,000 experts will be present.
Four days of immersion in cutting-edge solutions, workshops and live demonstrations from Tuesday 24 to Friday 27 October.
Where and when is Cibus Tec 2023?
What distinguishes Cibus Tec is its origin: the food exhibition has always been held in Parma, in the heart of Italy's food valley. The passion for quality food is rooted in local history, which has developed over the years with a strong push from the food industry.
The event, which represents the meeting of tradition, innovation and technology in the industry, takes place in an equally renowned location: Fiere di Parma, a four hundred thousand square metre exhibition centre.
Who exhibits at Cibus Tec for innovation and technology in food & beverage industry?
Within the large exhibition area, there are multiple sectors dedicated to food & beverage divisions.
There will be stands dedicated to fruit and vegetable processing, dairy products, meat, beverages and liquid food, ready meals and pasta, bakery preparations, chocolate and confectionery.
Cibus Tec is also an opportunity to evaluate new solutions for packaging, logistics management, food safety and automation.
Plan your visit, search among the exhibitors for the most interesting companies – don't forget to visit us! We will be at stand H012 in Hall 5, where we will present some of our tailor-made systems.
Inox-fer custom equipment
Our tailor-made approach fits perfectly with the innovative spirit of Cibus Tec – for years a meeting point for change in the food market.
Procut Easy 60 – Industrial Vacuum Cooker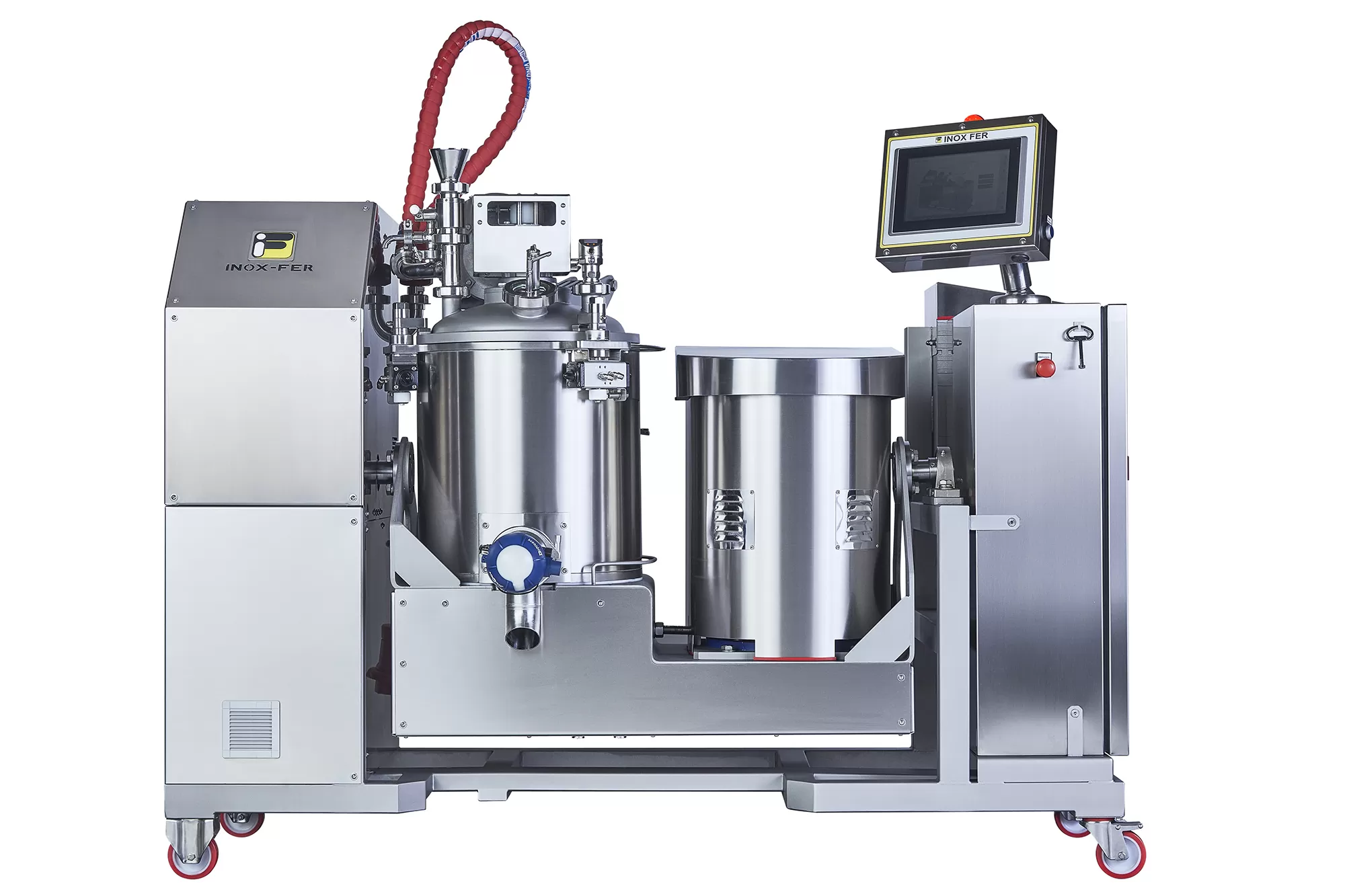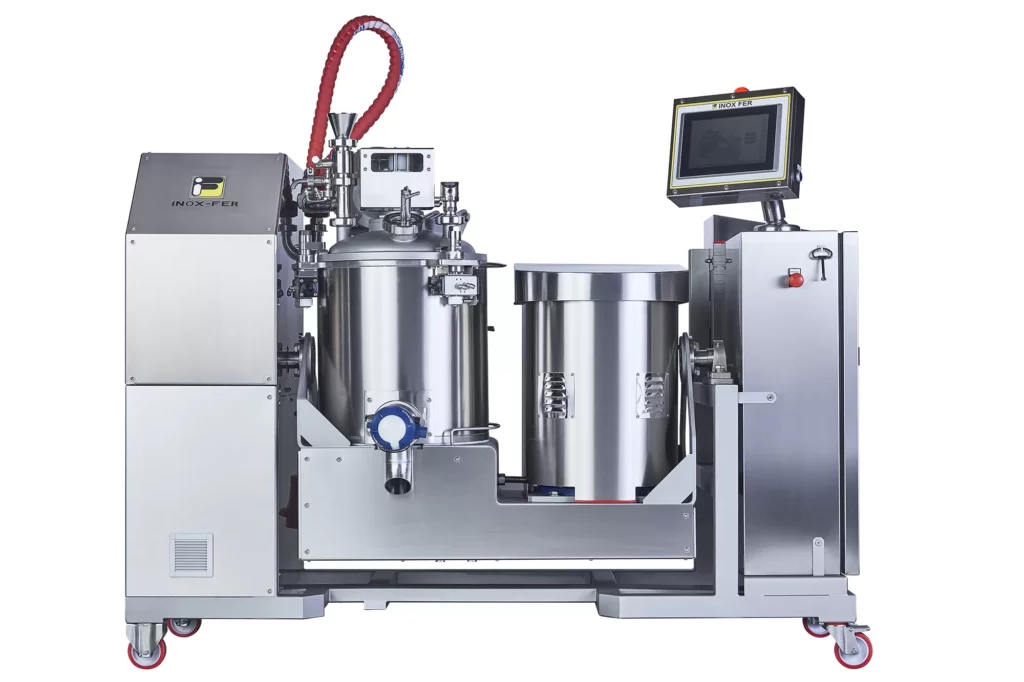 This customised industrial plant is particularly suitable for small and medium-sized companies producing sauces, creams, pesto and jams.
It is a unique piece of equipment designed to achieve exceptional levels of quality using highly professional equipment. Designed to transform raw material into a finished product, Procut Easy 60 is an industrial cooker, equipped with all the functions required for food processing, including operations such as cutting, mixing, vacuum cooking and concentration.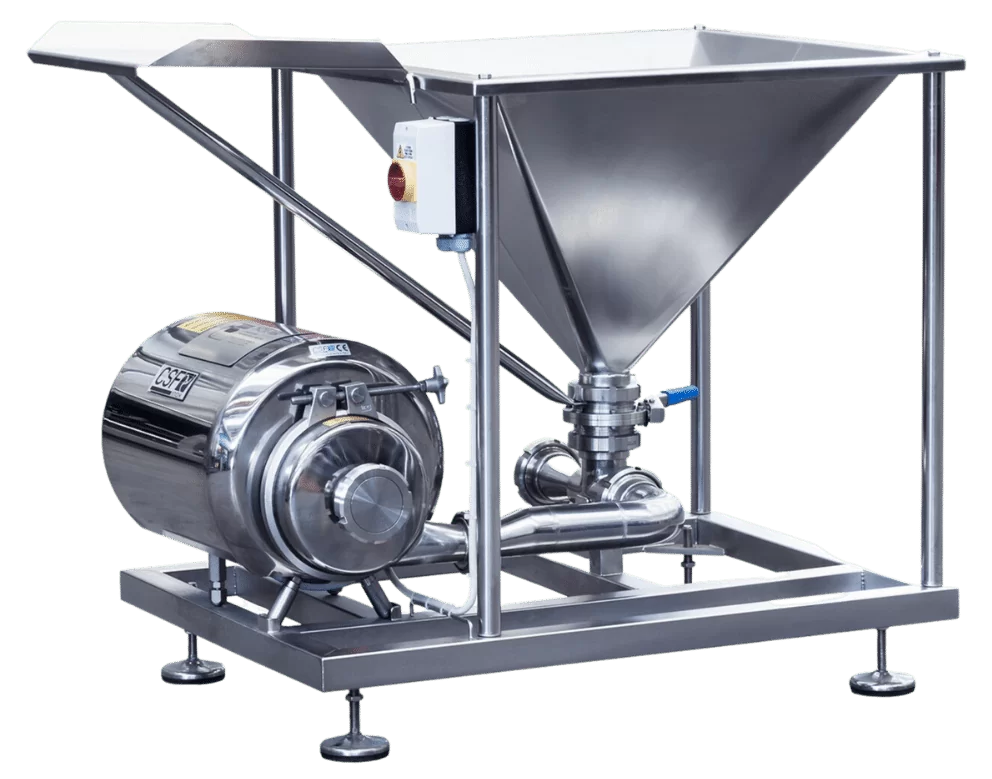 The DR dissolving system is a reliable solution for dissolving low-viscosity dry ingredients in a liquid. It is particularly suitable for the preparation and production of brine, preserving liquids and the dissolution of sugar in limited quantities.
This compact system features a practical bag holder for dry ingredients bags, which greatly simplifies unloading by the operator, making it an essential component for mixing and dissolving tasks.
TMV751 – Insulated Mixing Plant with two tanks of 1500 litres each
Tailor-made to meet the needs of one of our international partners in the production of highly viscous products, this mixing plant consists of two tanks of 1500 litres each and is equipped with a TMV dissolver with a centrifugal and a booster pump.
Distinctive features include the ability to prepare mixtures from extremely viscous dry ingredients or compounds such as honey, peanut butter and tomato concentrate through a high-speed agitator, with the possibility of loading the raw materials from above.
The system offers gentle heating via tube chest heat exchangers using water superheated to 130°C, a buffer tank for a continuous supply to the filler, and a special transfer pump to protect the sesame seeds and chilli flakes.
In addition to complying with UL and FDA regulations for the US market, it is manufactured in line with food contact regulations. It has an event data logging and remote-control system, inverters on all motors and an automatic CIP system.
Cooking Kettle
This customised cooking kettle, with a capacity of 550 litres, offers exceptional versatility for the preparation of small mixing batches that may include dry ingredients and viscous products.
Efficiency is ensured by an internal high-speed stirrer with cowless impeller reaching 1450 rpm, while rapid heating is made possible using steam and a scraping stirrer equipped with PTFE paddles. To preserve the integrity of sensitive raw materials such as sesame seeds and chilli flakes, the system is equipped with a special pump for recirculation and transfer. In addition, it complies with stringent safety regulations, such as UL approval for the US market and FDA certification for food-contact parts. With event data logging and the possibility of remote control, together with inverters on all motors, this cooking kettle offers a high level of efficiency and versatility to meet the specific needs of the production process.
Join in – Ask your ticket to the food industry exhibition
Join us for an extraordinary learning and networking experience where you can discover the latest technologies, meet industry experts and seize growth opportunities for your business.
Our team will talk about the tailor-made approach for small and medium-sized companies.
Don't waste time, request your free tickets now and get ready for an immersion into the future of the food industry. See you at Cibus Tec 2023!
Inox-fer gives you free entry to the exhibition – write an email to marketing@inox-fer.com with the subject 'Cibus Tec 2023 tickets'.
Don't wait, they are in limited quantity!