Step-by-step & machine for jam production
The industrial production of jams and marmalades is a fascinating process. Traditional recipes and cooking methods can be preserved, while maintaining both nutritional and organoleptic characteristics of the product, thanks to the vacuum cooking features carried out by the Double Jacketed Steam Cooking Kettle.
Listed below are the necessary steps in the successful production of marmalades and jams:
CONTROL
The first thing to check is the quality of the raw fruit and its compliance with European Food Law Regulations.
MANUAL AND VISUAL INSPECTION
During this process operators check that the product is wholesome, safe, not adulterated and is ready for processing
PITTING AND STONING
After the fruit is washed, the pit or stone is removed, via an automated machine process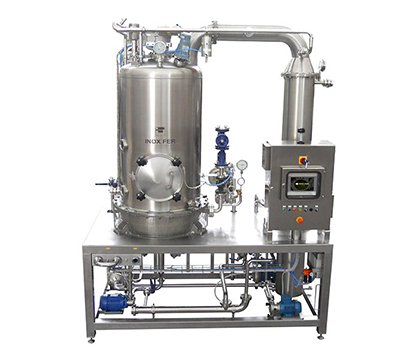 CONCENTRATION
Using a Double Jacketed Steam Kettle provides for vacuum cooking of the product. This process means that the original color, taste and organoleptic properties of the fruit are preserved by using low temperature cooking. Each individual recipe is set by a PLC and the operator does not need to constantly control the cooking process.
PACKAGING
Jars are filled with the marmalade or jam at temperatures between 80-85 °C. to guard against any microbiological alterations. Hot filling of the jars with the heated product is used to aid the sterilization of the jar.
STERILIZATION/PASTEURIZATION
The packaged product is typically then transferred to a pasteurizer. This step is carried out in case hot filled product is not provided in the above step, or to insure the complete sterilization process of the marmalade or jam.
PRODUCT STABILITY
Finished jars are then stored for 15 days after production to verify its complete microbiological stability.
All of these steps are carried out according to European Food Hygiene standards. In addition, X-ray machines inspect each jar to detect any foreign objects for removal.
The Double Jacketed Steam Kettle is a very versatile machine for jam production. Its primary application is for the preparation of all products that require the extraction of water from the product without cooking at high temperatures.
This machine is a must in the following industrial manufacturing sectors: chemical, confectionery, nutraceuticals, liqueurs and distillates.